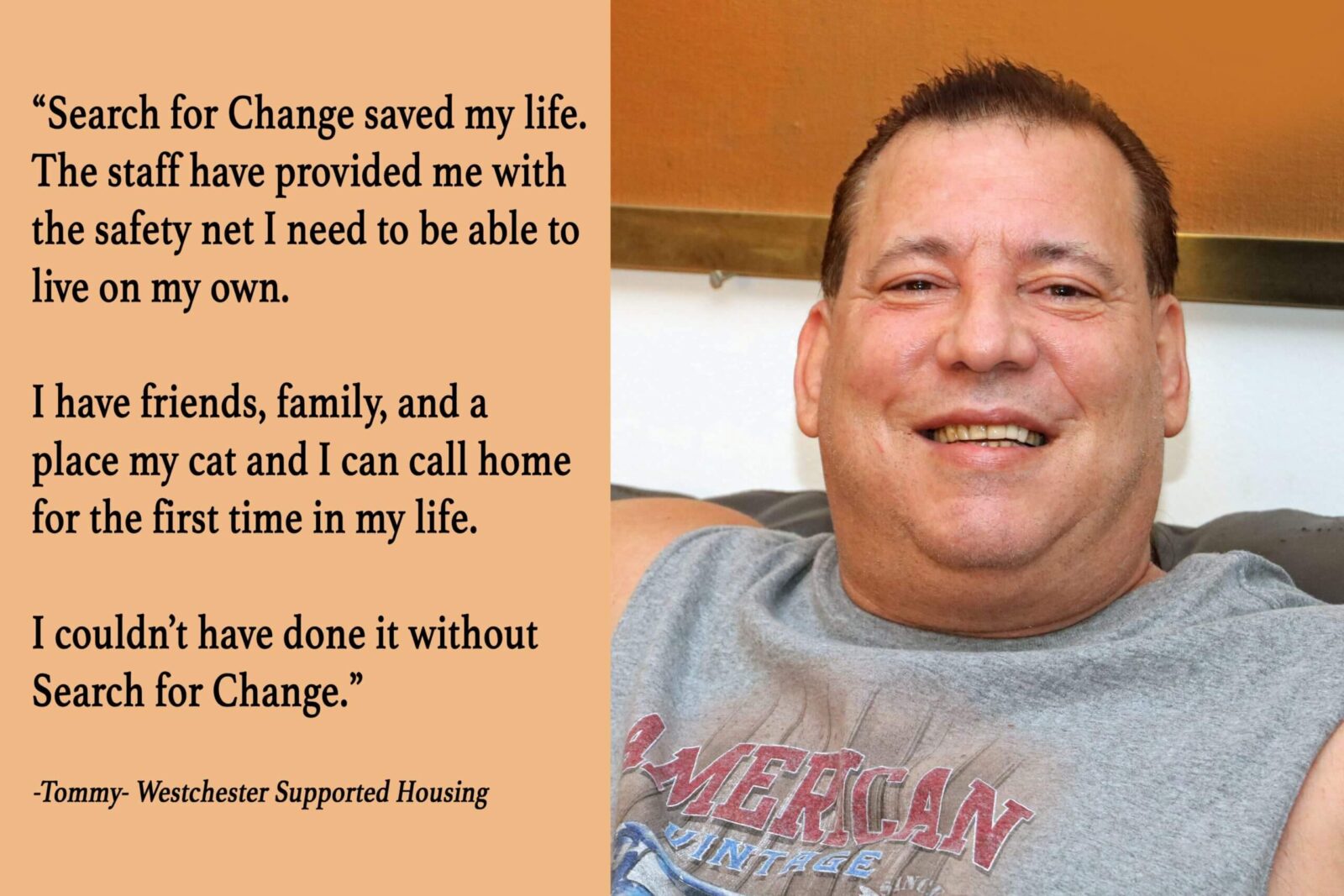 Your contribution to Search for Change helps individuals recovering from mental health conditions receive the support they need to help them reach their independent living and vocational goals.
There are a variety of ways to donate, each of which makes a real impact.
Contact Philomena Rivalsi, Development and Grant Specialist, at 914-428-5600 x9226 or privalsi@searchforchage.org with any questions.
Give Now!
Donate Online
When you choose to donate online, you can give a one-time gift or make a donation in honor or memory of someone. You can even set up an automatic recurring donation that will support Search for Change throughout the year. Even a small donation of $10 a month can help make a difference.
---
Donate by Mail
To mail a donation, send a check payable to Search for Change to:
Search for Change, Inc.
400 Columbus Avenue, Suite 201E
Valhalla, NY 10595
---
Donate by Phone
To make a donation or to learn more about options for giving, contact Philomena Rivalsi at 914-428-5600 x9226 or privalsi@searchforchange.org
---
Join our Reoccurring Giving Program
You can spread your gift out over a period of time, by giving monthly or quarterly. Become a member of our reoccurring giving program now by setting up your online donation here. You can change or end your contributions at any time.
---
Make an Honorary or Memorial Gift
Commemorate a milestone, celebrate the accomplishments of a friend or honor the memory of a special person with a tribute gift. Search for Change will send an acknowledgment card to the individual or family of the individual honored.  Please provide tribute information when you make your donation online or through the mail.
---
Set Up a Corporate Matching Gift
Double the impact of your contribution! Many employers sponsor matching gift programs and will match charitable contributions made by their employees. If your company matches charitable gifts, please include the form with your donation and we will take care of the rest.
---
Free Ways to Help Search for Change

Every time you shop at any of the 2,100+ online stores in the iGive network, a portion of the money you spend benefits Search for Change, Inc.. It's a free service. To get started, just create your free iGive account. Start iGiving at: www.iGive.com/SearchforChange
"I really like this program and I have made great strides since the move."