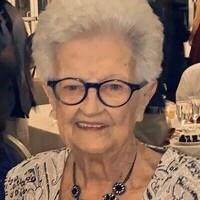 The Search for Change community is deeply saddened by the passing of Patricia Reilly, a former member of our Board of Directors and enduring champion of many noble causes.
Patricia (Pat) was not merely an advocate for SFC and its mission – she embodied the spirit and ethos of public service, as evidenced by her lifelong commitment to similarly worthwhile pursuits.
Pat's dedication to service was forged early in life and borne of an abiding faith and family tradition.  A lifelong resident of Mt. Kisco, Pat vowed to leave her Village "even better than how she found it."  She served her community as Trustee and Mayor and in countless other endeavors for which she received much-deserved recognition. The Ladies Ancient Order of Hibernians, Mount Kisco Historical Society, Friends in Service Helping, Salvation Army, Boys & Girls Club of Northern Westchester, Beautification Committee, Mount Kisco Recreation Commission, Mount Kisco Seniors, and Northern Westchester Hospital Presidents' Council are merely a few of the organizations that benefitted from her beneficence.  There are many more.
Pat's unparalleled passion for service was matched by her dedication to faith and family. She was a lifelong parishioner of Saint Francis of Assisi Church and served as a Lay Eucharistic Minister and member of the Parish Council.  She is survived by six children, thirteen grandchildren, and an extended family of nieces, nephews, cousins, and many others who recently gathered to celebrate her life and to remember the love they shared.
In Pat's "free" time she earned bachelor's and master's degrees in nursing and was employed at the (then) Mount Kisco (now Northern Westchester) Hospital and as a nurse and health services coordinator in the Bedford Central School District.
I was privileged to attend a memorial gathering that included a "standing room only" assembly of family members, friends, acquaintances, and associates who enjoyed a common bond – an enduring love for Pat and admiration of a life well and richly lived.
Pat, you set your sights on the Village of Mount Kisco but exceeded your aims.  You left the world better than you found it.  We are profoundly grateful.
Godspeed.
Ashley